Who am I?
I am a Christian who values God and family above all else. I have been married 14 years and have 7 wonderful children.

Born-Again Christian
In July 2000, I accepted Jesus Christ as my savior and became a born-again Christian while attending an evening service at a Baptist church in Baltimore, Maryland. My life changed after that and I began attending church regularly in my home state of Pennsylvania. My husband, son and newborn daughter started attending Mt. Zion Baptist Church in Brogue in January 2000.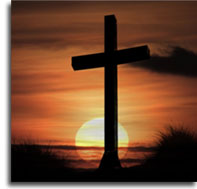 Pat, my husband, took the family to church but had a hard time with the concept of salvation because of his Native American heritage. Praise the Lord, he got saved in April 2003. Since that time, our lives have changed dramatically. Instead of living for ourselves, steeped in selfishness, we now live for the Lord Jesus Christ.

We attend church on Sunday morning, Sunday evening and Wednesday evening. We are so blessed to be have found a church that still has Sunday evening and midweek services. So many churches have cut down to one service per week!

We found a new local church and became members in September 2008. Pat is working in the Audio Ministry and I am in the card ministry and I help with any graphic design projects they have for upcoming events. I also like to provide meals to those that have a need. We are hoping that our church will start a new soul-winning ministry soon and I will certainly be ready to be part of it! We do witness to others by handing out tracts wherever we go. Witnessing is telling others how to know for sure they are going to Heaven when they die.

What do we do in our free time?
We love to take day trips and go on picnics. We haven't been able to do much in the last 2 years because of lack of income, but we make the best of it. We haven't gone camping much but we have taken opportunities to go to parks a lot ~ even to homeschool once in awhile. During this summer, we had the kids enrolled in 3 different reading clubs and they earned a lot of 'loot' and had a lot of fun reading all kinds of different books. They earned 1 free book from Borders, 1 free book from Barnes & Noble and from Dion's Pizza Reading Club they earned a free book, bookmark, backpack, game ticket to local semi-pro baseball game that came with a free drink coupon and a certificate. We also went to free family movies over the summer and they got to experience their first movie in a theater! We had free lunches in the park and fellowship time with other families. We were able to go to a free fair recently and we all had fun! We also participated in the Kids Bowl Free ~ which is a program where each child gets 2 FREE games of bowling each day. Since the closest bowling alley is about 40 miles away, we usually went once per week. We found lots of free stuff to do and we had a pretty fun summer.

Homeschool.
Pat and I have made the decision to homeschool our children. There are several reasons why we chose to do so. The most important reason of all is because we feel the Bible tells us that we are responsible for teaching our children. Deuteronomy 6:5-9 tells us "And thou shalt love the LORD thy God with all thine heart, and with all thy soul, and with all thy might. And these words, which I command thee this day, shall be in thine heart: And thou shalt teach them diligently unto thy children, and shalt talk of them when thou sittest in thine house, and when thou walkest by the way, and when thou liest down, and when thou risest up. And thou shalt bind them for a sign upon thine hand, and they shall be as frontlets between thine eyes. And thou shalt write them upon the posts of thy house, and on thy gates."

It is clear that we are to teach our children through everyday routine about God and what he has done for us. We cannot do a good job of doing this if we were to ship our children off to public school where every mention of God is almost forbidden!

Another reason we chose to homeschool is because of the bad influence of the school system. Children are put together with children their own age for 7-8 hours per day and soon their classmates opinions become more important than their parents'! There are no absolutes in the school system. In our lives, there are absolutes set by the Word of God!

Links.
Below are some links that I found enlightening: These are just a few for now. I will add more at a later time.

www.constitutionparty.org/index.php
www.grassfire.org/
www.conservativetruth.org/index.php
/www.abort73.com/HTML/I-case.html