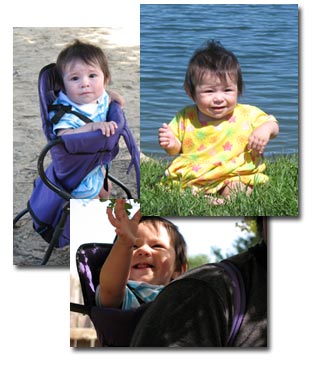 Hi. I'm Molly. I am 20 months old! I am told that I bring pure joy to everyone who comes in contact with me. Mommy calls me "Monkey Girl" because I climb, climb, climb! Everyone turns their head for just a second and I try my best to be up on the kitchen chair so that I can play on the table...I think it is fun but when someone sees me they get real jumpy and come and pick me up and put me back where I started - on the floor. Does anyone else have this problem or just me? The view is so much better up there.

My brothers and sisters still spoil me rotten....but I promise I won't act spoiled! They still stroll me around outside; they play with me often; and my sisters like to change my clothes.

Mommy likes to have my sister Madison put 3 pony tails in my hair - one on each side and one on top. Almost everyone thinks I am adorable....except maybe Dad!

Gotta go now, my toys are calling me!