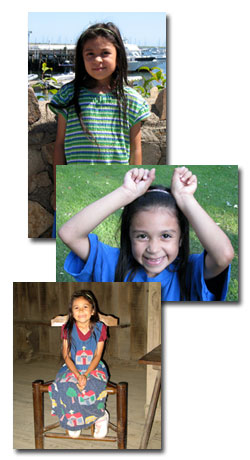 Hi. Welcome to my corner of the world! I am Madison Torivio and I am 8 years old. My favorite things to do are to go to church, sing and play with my baby dolls.

I am in 2nd grade with my sister, Megan. Mom says that I am doing very well. I LOVE to write sentences. When I am asked to write 1 sentence, usually I write about 3 or 4...thats a good thing I hear??

I also like to read. I read to my younger brother and sisters quite a bit and they enjoy it. I have been able to sing more in church because I can read the words and sing along. My Mom and Dad say that I have a very nice singing voice. I love singing!

I have learned to ride a '2-wheeler' (bike) and I have been 'tearing' around the driveway - very quickly according to my brothers and sisters! I love to ride bikes. I think Dad is going to buy me a new bike soon. I am looking forward to it.

Please pray that dad and mom will let us get chickens soon!