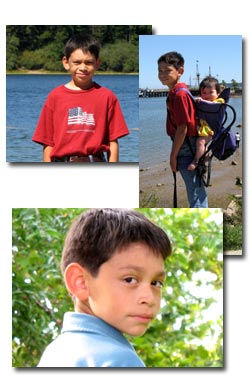 Hi. Welcome to my "home on the web"! I am Josh Torivio and I am 10 years old. I enjoy reading my Bible. I also enjoy playing with my sisters and holding my baby sister, Molly.

We now live in NM and I enjoy being able to ride my bike in our big yard and over to the mailbox to get the mail. One thing I have learned...it is different riding a bike on the road then it is on gravel...I had both my elbows scraped up and other miscellaneous bruises/scrapes due to that learning curve!

I am now in 4th grade. Mom says that I am 'sharp as a tack'. I have been getting good grades in all subjects including Math which used to be a challenge. I also like to write stories.

I have been able to write 2 messages and have been asked to 'preach' 2 times: 1 time in Wednesday Evening Kids Clubs and 1 time in Children's Church. I feel that the Lord has called me to preach. That is a great blessing to me.

I also have found that I enjoy taking photos with my digital camera. Mom and Dad say that I do a good job. I will have my own photo website soon so that I can upload my photos for all to see.

For my birthday, I received a new big bike with lots of gears for my birthday. Sometimes Dad and I go riding together...I like that the best!