Please allow us to introduce ourselves. We are the Torivio's...better known as the Torivio Tribe! We are a family of 9; daddy, mommy and 7 beautiful children - ranging from age 12 years old to 3 years old. Yes...they are all ours!! That is a question that we have to answer quite often.

We are homeschoolers and love it! We like the flexibility of homeschooling and we school year around. In January of 2011, we will have one 6th grader, two 4th graders, one 3rd grader, one 2nd grader, one Kindergartner and a pre-schooler.
Our oldest child is Joshua and he is 12 years old. He is a terrific young man that has been called to be a preacher. Please pray for him to stay strong and learn about the Lord. He is a wonderful help around the house and helps me coordinate the chores. He is also the ultimate big brother!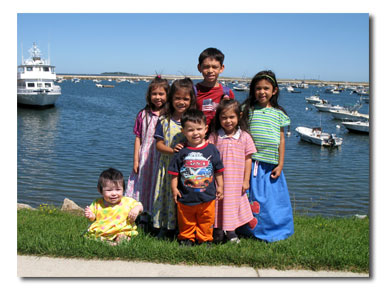 Next in line is Madison. She is 9 and is a little on the reserved side. She is our oldest girl and is quite the joker of the family...just like dad! Maddie is such a blessing. She helps me out tremendously with Molly.

Megan is 8 and she is also in 3rd grade. She is the most outgoing and talkative one of the bunch. To describe her in one word would be - energetic. For those of you who remember, she is the one that was born in the bathtub...she just couldn't wait...hmmm....she is still the most impatient of all!! Megan is a blessing because she is always happy and smiling!

Mackenzie is 7 and in 2nd grade. She is quiet but very sweet and takes care of her Momma (me) very well ~ always wanting to help me in one way or another. I enjoy seeing her quiet, helpful spirit!

Mary Beth is 6 years old and in 1st grade. She has grown into quite a young lady...almost. She is cute as a snuggle-bug but has some 'tomboyish' tendencies and a grin that says "I'm ornery". It is not uncommon to see her running like a little lady holding up her dress (a little too high)! She loves ladybugs.

Next in line is James Caleb who is 4 years old. He is still a chubby little fella. He is definitely all boy, but a little clumsy and it is a usual sight to see some kind of scratch or bruise somewhere on his stout body....we refer to it as the 'bruise of the week'. But...he has the most winning smile you could ever want! I love that he is always trying to find something to do to help me!

Last in line is little Molly Mae who turned 3 on August 26th. She is a cutie. She is extremely smart ~ probably because she observes 6 other kiddos in action. She is very sweet and happy with a ready smile! She keeps us all on our toes.

We are born-again Christians and attend a fundamental, Bible-believing Baptist Church. We have accepted Jesus as our
personal Savior and strive to live God-honoring lives. Josh, Maddie, Megan, Mackenzie and Mary Beth have also accepted Jesus. Perhaps this is the biggest challenge of all...to try and raise Godly children in this harsh world.

The first video is the latest (12/5/10) when they sang a special for church called Higher Ground. The second was a medley of songs done on Memorial Day 2010 in our church to honor our veterans.





"Lo, children are an heritage of the LORD: and the fruit of the womb is his reward. As arrows are in the hand of a mighty man; so are children of the youth. Happy is the man that hath his quiver full of them..." Psalm 127:3-5a